Thank you for your support
Together for Short Lives is the UK's leading charity for the 99,000 seriously ill children across the UK and their families, who face the heartbreak that their child will die young. We're here to help families get the vital support they need and help them feel less alone, so that they can make the most of every moment they have together.
Days like today are not just about raising vital funds for families caring for a seriously ill child, they are also an opportunity for some of our families to enjoy themselves and make precious memories together that will last a lifetime.
Mum Stacey, lost her three year old daughter Tiffany in 2020. She's written a message below to tell you why magical days like today are so important for families like hers…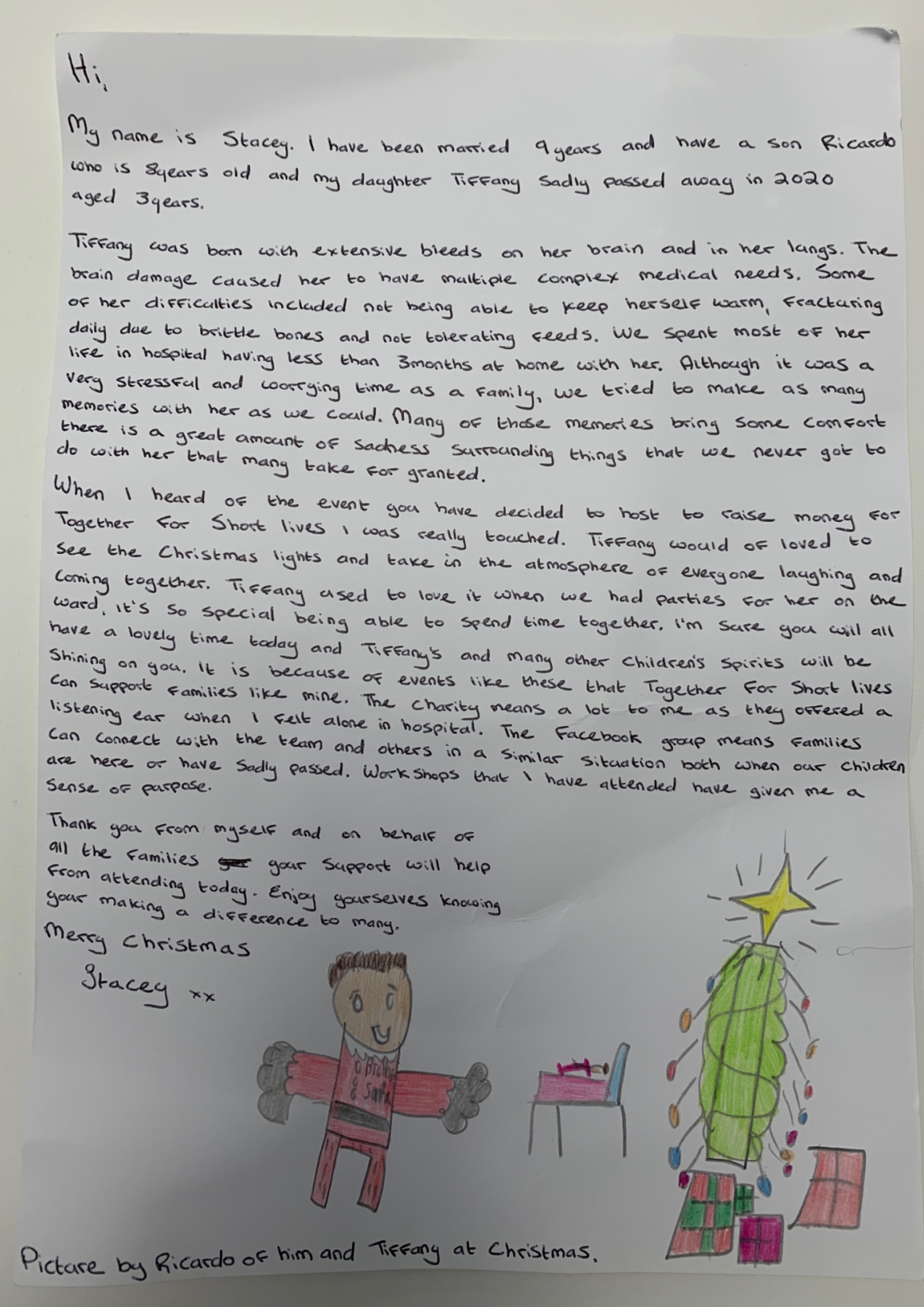 Hi, My name is Stacey. I have been married 9 years and have a son Ricardo who is 8 years old and my daughter Tiffany sadly passed away in 2020 aged 3 years.
Tiffany was born with extensive bleeds on her brain and in her lungs. The brain damage caused her to have multiple complex medical needs. Some of her difficulties included not being able to keep herself warm, fracturing daily due to brittle bones and not tolerating feeds. We spent most of her life in hospital having less than 3 months at home with her. Although it was a very stressful and worrying time as a family, we tried to make as many memories with her as we could. Many of those memories bring some comfort but there is a great amount of sadness surrounding things that we never got to do with her that many take for granted.
When I heard of the event you have decided to host to raise money for Together for Short Lives I was really touched. Tiffany would have loved to see the Christmas lights and take in the atmosphere of everyone laughing and coming together. Tiffany used to love it when we had parties for her on the ward, it's so special being able to spend time together. I'm sure you will all have a lovely time today and Tiffany's and many other children's spirits will be shining on you.
It is because of events like these that Together for Short Lives can support families like mine. The charity means a lot to me as they offered a listening ear when I felt alone in hospital. The Facebook group means families can connect with the team and others in a similar situation when our children are here or have sadly passed. Workshops that I have attended have given me a sense of purpose.
Thank you from myself and on behalf of all the families your support will help from attending today. Enjoy yourselves knowing you're making a difference to many.
Merry Christmas
Stacey xx
Support our work
Please help us give families like Stacey's vital support to feel less alone and make the most of every moment they have together.